Have you noticed how those super low hotel room rates you see advertised never really seem to be what you actually pay? Taxes aside, one of the biggest contributors to this are resort fees. So much so, that The Washington Post says U.S. hotel guests paid an estimated $2.7 billion (yes, billion with a B) in resort fees in 2015!
What are Resort Fees? Where did they come from?
If you're not a millennial, there's a good chance you remember when resort fees didn't exist. You probably remember being able to dispute them when they started popping up in the early to mid 90's as well. Unfortunately, times have changed. These fees, which used to be added to your stay for the upkeep of luxury amenities at high-end resorts, are now found virtually everywhere.
Many of the perks that resort fees were designed to pay for at luxury properties such as beach clubs and tennis courts still exist. However, more and more hotels are tacking on resort fees as an easy way to generate additional revenue. During our research, many hotels said the resort fees provided for amenities such as faxing, in-room safes, local phone calls, beach and pool access, that were previously included in the room rate. In Las Vegas, for example, hotels use many of these reasons to justify fees as high as $32 a day at some properties.
Here's a great example of one hotel advertising an extremely low rate, then tacking on a 42% resort fee.

At the opposite end of the spectrum, here's a $680 per night island property in Miami that charges a resort fee of $150 per night (plus tax), which comes out to 23.6% of the total room charge. The property doesn't mention that fee anywhere on their website and when called, said it covered access to all of their facilities and a golf cart for guests to use while on the island. When pressed on it over the phone, they actually called back the next day and offered to waive the resort fee, offered me the Florida resident discount rate even though I live in Michigan, and the only stipulation was that my reservation would be non-cancellable. I guess it's not mandatory after all…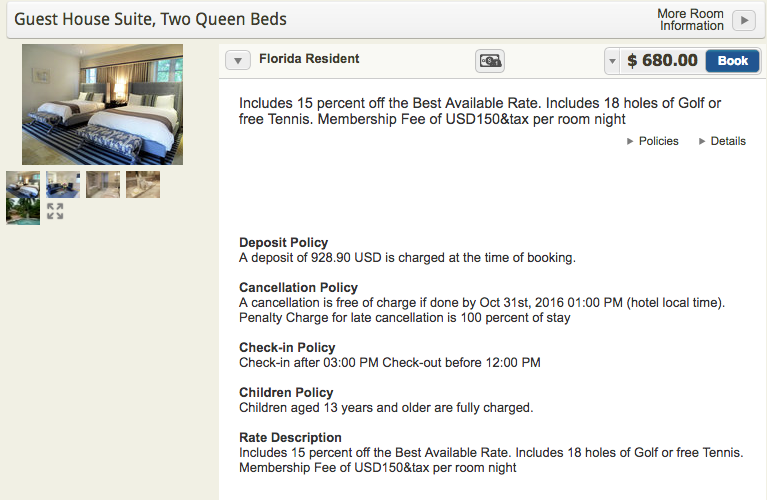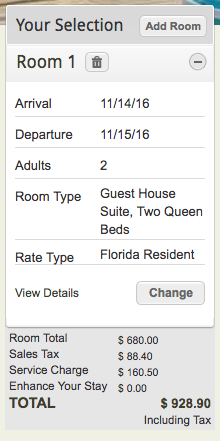 Why Do Hotels Still Charge These Fees?
The reasons why many hotels still charge a resort fee are pretty obvious:
It's legal…as long as they disclose the fees before you complete your reservation

It allows hotels to

deceptively

lower their advertised room rates then make up the revenue by tacking on resort fees later

Consumers continue to pay them without questioning what they're getting in return for their money
Challenging the Status Quo
If a property really wanted to, they could offer a stay for $50 a night and charge a $100 resort fee as long as they disclose it prior to booking. Talk about a bait and switch! Cable and internet providers are the one of the only other folks out there charging their customers fees like this with minimal transparency. And, we all know how much everyone loves dealing with them. This deceptive practice has gotten so bad that the FTC is considering changing its current policy as many consumer advocate groups argue that it is unfair and deceptive.
Websites like ResortFeeChecker.com and ResortFees.com are gaining momentum because travelers are tired to being taken advantage of. In a recent study, roughly 1 in 10 travelers to Las Vegas actually changed where they planned to stay in order to avoid paying resort fees. In my opinion, hotels have three options if they want to see continued success as their guests become more discerning:
Option #1 – A La Carte Service Fees and Packages
If properties want to keep resort fees in place, they have to acknowledge that it takes unique and luxurious upgrades to justify them as well as a market willing to pay for them. If people don't take advantage of those perks, the property should offer to waive the fees. A recent study confirmed consumer sentiment for this approach.
Option #2 – Roll the Resort Fee into the Room Rate
Hotels could drop the resort fee entirely and roll it into the room rate. Let the consumer know exactly what they're paying for and allow them to make their own decision, with no hidden fees/charges. The same study referenced in Option #1, found that 67% of consumers preferred this type of bundled pricing. Truly savvy brands will utilize this as a marketing opportunity to explain higher room rates and differentiate themselves from competitors who still nickel and dime their customer base.
Option #3 – Do Nothing While Competitors Choose Options #1 & #2
Hoteliers that refuse to change will continue to benefit from unsuspecting, price-conscious consumers…for the short term. However, many hotels already see the changes in consumer spending habits and have updated their pricing model to mirror the options above. If this consumer behavior trend continues, businesses who are slow to respond to the change will likely see a decline in revenue until their pricing model better reflects consumer demands.
The Hard Truth
Quite frankly, hoteliers are going to need to work harder. Charging resort fees has been an easy revenue generator requiring little to no effort for too long. As consumers become more educated, brands that continue to utilize them will be risking their ability to build long-term brand loyalty, a key performance metric for the travel industry.
Sadly, unless the practice is deemed a form of deceptive advertising by the FTC, many hotels and resorts will likely stay the course as they are too tempted by the easy revenue. Even those who want to change may be too cash-flow sensitive, requiring the short-term revenue resort fees provide just to stay afloat. Additionally, properties in highly-competitive resort destinations like Las Vegas and Miami, where resort fees have been the norm for decades, will likely be the last to change as it will put them at a disadvantage price-wise in online search results. To survive, these hotels will likely continue to advertise low rates that undersell the market and focus on a volume-driven strategy, targeting the most price-conscious consumers.
Unfortunately for them, transparency is the currency businesses trade in today. The internet provides everyone with more options and information than they know what to do with. Consumers, even cost-conscious ones, are deciding they don't want to do business with organizations who aren't honest and upfront with them.
If you're a consumer who has successfully challenged these charges or a hotelier who is considering changes to your fees, I would love to get in touch. Email me at John@StockiExchange.com or contact me online here.