"You" might be a restaurant guest or "you" might be a restaurant employee. There's a solid chance "you" might also be another chef or restaurant owner. Regardless, you're probably doing at least one thing that drives chefs everywhere up the wall. To find out exactly what drives them crazy in the kitchen, I asked two to tell all. Here's who they are and what they had to say.

Brian Duffy – 
International Restaurant Consultant & TV Personality (Bar Rescue Expert)
Chef Brian Duffy is a graduate of Philadelphia's The Restaurant School. He's considered a pioneer in refined, modernized pub fare, aka "New Celtic" cuisine. He has been the executive chef for restaurant groups like the Dave Magrogan Group and now owns his own consultancy. Here's what gets his goat!
Entitled Employees
Way too many fresh culinary school graduates leave school with a chip on their shoulder. They "want the business card, the jacket and the embroidery, but they haven't put in the time to earn it," says Duffy. The reality is that they don't know that much about running a real kitchen. They don't want to listen to the people they work for once they graduate. They're chasing the "Executive Chef" title without putting in the time to truly understand that restaurants are more than the food coming out of the kitchen.
Unorganized Newbies
The lack of organization and planning that students are taught. The lack of emphasis on proper mise en place. The lack of planning for contingencies like what to do if the POS (point of sale) goes down. The list could go on and on. Frankly, schools aren't really setting up students for the day to day issues that managers and chefs have to deal with. This has become such a big problem that Chef Duffy actually does what he calls "scare room" drills to train staff how to properly plan and react to a variety of common restaurant issues.
Untrained Staff
Duffy says he's "in the business of exceeding expectations" so he doesn't let crazy guests get to him. He says that he can do that because he's made sure that his staff understands what's in every dish, why it's there, and how it's made. He makes sure that they know exactly what can and can't be done with every item on the menu. That level of knowledge translates directly to a better dining experience for every guest (and a much, much calmer chef).
Entitled Guests
…not guests that feel entitled to a great experience; that's expected. Guests that expect to be catered to because they know the owner or they're dating the bartender. "It doesn't matter who you are," says Duffy. "You're going to get the same exact service as the owner's mother would." And it should be exceptional because the staff are going out of their way to overdeliver for everyone. It's really that simple.
You can learn more about Chef Duffy, and his restaurant consultancy, here.
Eric Patterson – 
Co-Owner of The Cooks' House (Traverse City, MI)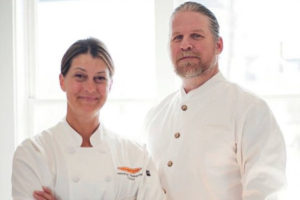 Chef Eric Patterson is the co-owner of The Cooks' House with Chef Jennifer Blakeslee, a petite, chef-owned destination for sustainable fare in Traverse City, MI. Before opening TCH, he worked in Michelin-starred kitchens under iconic French Chef André Rochat. Here's what rubs him the wrong way!
Part-time Food Critics
Yelp and TripAdvisor have armed the uneducated with the tools necessary to tear a restaurant apart. There are too many "people who speak with authority but have no idea what they're talking about," says Patterson. It's gotten to the point that he doesn't even read the reviews anymore. "I just don't care about them."
"Salters"
People who salt their food before tasting it made Patterson's list as well. Nothing says "I don't trust your abilities" more. It's absolutely fine if you want to add a bit of salt and pepper AFTER you've tried the dish, but give yourself the chance to taste what the chef prepared for you.
Gluten-free for Fun
"Gluten-free is a First World Problem. You don't see people in 2nd and 3rd world countries who are worried about being gluten-free…it's seriously a luxury issue," says Patterson. A fraction of the population has Celiac and/ or a true gluten-intolerance. Perhaps if today's diet didn't consist entirely of complex carbs we wouldn't have this issue. This and other "fake" allergies have become the bane of many a chef's existence over the past few years.
Substitutors
It's completely fine to substitute a side or ask for a different type of cheese on your burger. In fact, it's expected. However, there are people who "want to come in and re-write the menu," says Patterson. "We've put in a lot of thought into a dish and they want to come in, ya know, take this off, put that on, re-write the dish, and then complain that it wasn't good." We would guess that the part-time food critics we mentioned are probably some of the biggest perpetrators here.
The Cooks House is located at 115 Wellington Street in Traverse City, MI. The restaurant only has 28 seats so we highly recommend making a reservation. Good luck getting one without booking a few weeks ahead.
If You're A Chef, We Want To Hear From You!
What really grinds your gears? Shoot me an email at John@StockiExchange.com or submit a message through my website. I would love to connect with you to learn more about what gets you worked up.