While filming for the new luxury hotel TV show, Great Escapes, I spent 8 days exploring San Diego, CA visiting some of the best hotels the city has to offer! Anyone looking for a family friendly beach resort close to downtown San Diego, the Kona Kai Resort & Marina should be at the top of your list!
4.1 miles from San Diego Intl. Airport (SAN)
Check-in: 4 pm | Check-out: 12 noon
Parking: $27/night, valet only.
Pet Policy: Pets allowed for an extra charge of $25 per pet, per day. (Dogs up to 100 lb max)
Room rates: Starting at $175+/night, plus Daily Resort Fee of $25/per room/per night and taxes.
Check availability & make a reservation at the Kona Kai Resort & Marina!
---
Travel Expert Tips
If arriving via SAN, use Uber/Lyft instead of renting a car and paying for parking.
Request a newly renovated main building room.
Rent bikes or jet-skis from Action Sports Rentals and take a tour of Shelter Island.
Dine outside at Vessels restaurant and enjoy a perfect sunset.
---
Location & Arrival
The 129 room Kona Kai Resort & Marina sits on the southern tip of Shelter Island and less than 5 miles from the San Diego Intl. Airport. The resort's location allows every room to either have an amazing view overlooking either the San Diego Bay or Kona Kai Marina, which is the largest in San Diego. The hotel is currently constructing three new buildings that will add an additional 41 suites to the resort and they are slated to be complete by January 1, 2018.
When arriving at the hotel, you're greeted by a beautifully decorated lobby that reflects the natural surroundings. Driftwood art, blue tones, and cozy seating gives you this relaxed feeling to start off your vacation on the right foot. The hotel driveway and entrance have recently been redesigned to provide a more pleasant and relaxed arrival experience that Noble House Hotels & Resorts are known for.
Rooms & Suites
During my visit, I stayed in one of their recently renovated Premium Bay View Rooms which offered a private balcony, complimentary in-room Keurig coffee, massive backlit bathroom mirrors, rainfall showerheads, and luxury bathroom amenities. The bright blues and vibrant accent colors continue the beach resort theme throughout your room and beyond. There is something special about getting up in the morning, sipping a fresh cup of coffee, and sitting on your private balcony to watch the day unfold in a relaxed and serene setting. Being located at the end of Shelter Island, traffic is minimal and you won't see a single car if you're on the marina side of the resort!
Restaurants & Bars
The resort's signature restaurant, Vessels, is offering up a sumptuous menu for breakfast, lunch, dinner, as well a late-night bar menu for some post-cocktail noms. There are plenty of restaurants in the nearby area and downtown San Diego is just a few miles away, but we never needed to leave the resort during our stay. For breakfast, you won't be disappointed by ordering the Pulled Pork Eggs Benny topped with their green chile hollandaise sauce. The combination of the sweetness of slow-cooked pork and the acidic chile hollandaise sauce mixed with the rich egg yolk is any breakfast connoisseurs dream. Make sure you take advantage of their bottomless bloody mary bar for only $15/person. You MUST TRY the Lobster Mac & Cheese as it's life changing. The ratio of huge chunks of lobster to mac is almost laughable and should be called lobster and a few macaroni noodles.
Follow that with a perfectly cooked "Big Kona" burger paired with some Parmesan Truffle fries, how can you go wrong? For dinner, I was lucky enough to stay on a Thursday, which is Prime Rib night at Vessels. When the waiter said it was Prime Rib night, I thought I had been transported to the 1960's, when gargantuan slabs of beef were one of the cornerstones of family dining and eventually moved into endless buffets throughout the U.S. over the next 40 years. Being a hunter and carnivore, it's hard to pass up the opportunity to enjoy a slow-roasted Prime Rib so I ordered it up. Out comes a cut of Prime Rib cooked exactly to my request and accompanied with a serving of al-dente vegetables seasoned to perfection. This isn't your Las Vegas $4.99 Prime Rib buffet rather a refined and balanced portion that might even receive an approval from your Cardiologist. Well, maybe that's a stretch, but quality, in this case, trumped quantity and I left a happy camper.
I'm never one to skip the opportunity to try a new cocktail or two and a few of Vessels hand-crafted cocktails earned a repeat order. Tequila has basically become extinct in my life after one too many shots of it made a few fun nights turn into horrible mornings. Something felt right about sitting on the outdoor terrace overlooking the marina and rolling hills of San Diego and a Coconut & Lime Margarita. To my surprise, the coconut flavored tequila and lime juice paired with the toasted coconut rim made for the perfect balance of sweet and sour without making my face squirm and wince like I had just taken a shot of warm tequila with no lemon. Not exactly the most glowing review, I know, but if I would order it again, anyone who even has the slightest affinity for margaritas should add it to their must-try list. I eventually made my way back to my comfort zone with whiskey based drinks and settled on their Citrus Rye. A refreshingly bitter combination of rye whiskey, pink grapefruit soda, and grapefruit bitters was the perfect way to watch one of the most colorful and memorable sunsets I've ever seen.
Resort Activities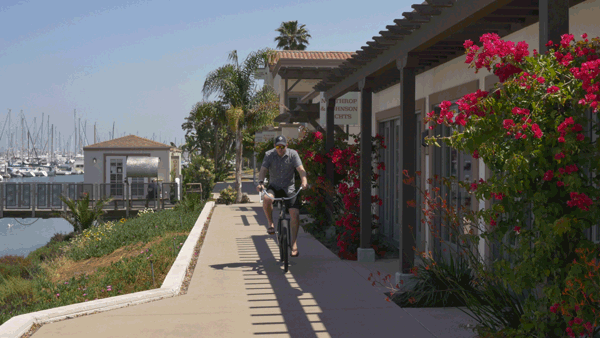 The location of the resort is perfect for those who want to spend some time outdoors exploring on land or sea. The resort has partnered with Action Sports Rentals to offer bikes, kayaks, stand-up paddle boards, pedal boats, jet-ski, and power boat rentals just steps from the hotel. During my stay, I took advantage of the bike rental and made my way around Shelter Island to explore a bit and finally hopped on a jet-ski. We cruised all the way to the San Diego port and drove right under the bow of the USS Midway, a decommissioned US Navy aircraft carrier that is now a floating museum.
The resort has one of the only privately owned beaches in San Diego and offers guests the opportunity to soak up some rays with their toes in the sand or relax in a reservation only full-service Cabanas and sip on cocktails from the poolside Tiki Bar. Unfortunately,  you cannot swim in the ocean from the beach, but the pool or jacuzzi is just a few steps away to take a quick dip.
In the evening, the resort has gas fire pits on the beach that are perfect for making a tasty dessert treat with their custom-made "Have S'more Fun @ Kona Kai" s'mores kits!
For those of you who are interested in spending the day in the spa, there is likely no better spa in the area than SpaTerra. (View Treatment Menu) They have the all the spa essential treatments and services like pani/pedi, make-up artistry, facials, but they also have some unique treatments performed on a therapeutic heated alpha-quartz sand bed based on the ancient Greek concept of "psammotherapy", which uses warm sand to alleviate pain and promote comfort.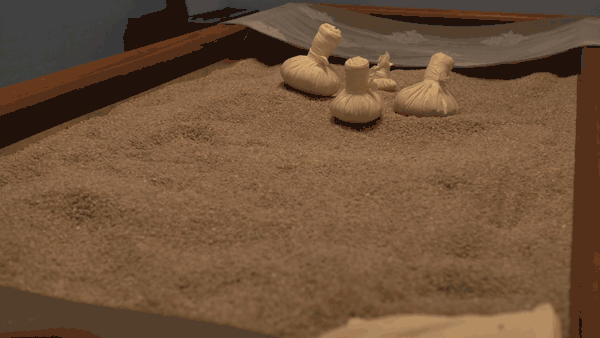 Summary
The Kona Kai in San Diego, CA is the perfect option for almost any type of vacationer. The combination of available activities is guaranteed to keep even the pickiest traveler actively entertained with all the watersports or calmly relaxed at the spa or pool. Plus, no matter what age you are, everyone enjoys s'mores! Just a short drive from the airport or easy access from anywhere in Southern California, be sure to check out the Kona Kai for your next vacation plans!
Check availability & make a reservation at the Kona Kai Resort & Marina!
---