American Airlines and United have finally decided to join Delta in introducing basic economy flights to markets throughout the U.S. Both airlines plan to roll basic economy out to select markets in 2017. This no-frills tier is beneath standard economy and offers cheaper fares at the expense of traditional benefits such as access to overhead bins and pre-assigned seats. While many travelers are likely happy to save a few dollars, many travel writers have knocked airlines for taking away the few amenities that made flying economy class bearable. 
"Delta's lowest fare seats comes with tons of restrictions, and its ecommerce team thought it would be a great idea to hate-sell it, implying: "Here's is what you don't get, you cheap shit!" Passive-aggressive selling at its best. Or worst," says Rafat Ali of Skift. "This is what happens when you let conversion marketers run amok with customer experience. They made it a science, but forgot being human."
I beg to differ. While I agree the way in which the restrictions are presented and communicated could use a softer delivery, I'm not sure it reaches the level of "hate-selling".
My Thoughts on Basic Economy
The majority of human to human interaction between airlines and customers was lost long ago. Flying once was, and for wealthy people still can be, a luxury experience. Just look at this three-room suite on an Eithad Airways A380. Insane, right? For others, and the majority of travelers, it's the pain they're forced to endure to get from point A to B. Most airlines have even done away with free meals on U.S. domestic flights for economy passengers. As technology has entered the industry (online booking, mobile app check-in, self-serve kiosks, etc.), it has eliminated the majority of human interaction that was once a part of the customer experience. The profession of a desk-bound travel agent has all but disappeared. In fact, Skift reports that "by 2020 the travel industry will have the highest percentage of online payments in relation to all sales than any other industry on Earth."
Think about it – if I buy my ticket online, check my own bag at a self-serve kiosk or don't check one at all, and use my mobile app boarding pass to get past security, I can get all the way to the gate without ever interacting with an airline employee. This has nothing to do with whether I'm flying basic economy or business class, the process is the same. The fares only come into play once I'm about to board the plane and I get the service I paid for…or chose not to.
If I want to talk to a real person I'm going to have to pay up. United Airlines has a service charge of $25 for telephone bookings for US & Canada travel, $30 at a City Ticket Office and $50 in person at the airport. American Airlines' fees are up to $35 for domestic flights and up to $45 for international flights. Delta offers complimentary telephone bookings for almost all flights. There is a fee of up to $35 for tickets issued in select European countries via telephone reservations or a ticket office.
The Market Decides Who Wins
The reality is that it's all about what the market (aka consumers) is willing to accept and pay for. For many, airline travel is a means to an end, not an experience in and of itself. Travelers don't get dressed up for the romantic experience of flying the way they did in the late 60's and 70's. Nowadays, flying is more like taking a taxi from point A to point B than it is like getting on a cruise ship for a trip.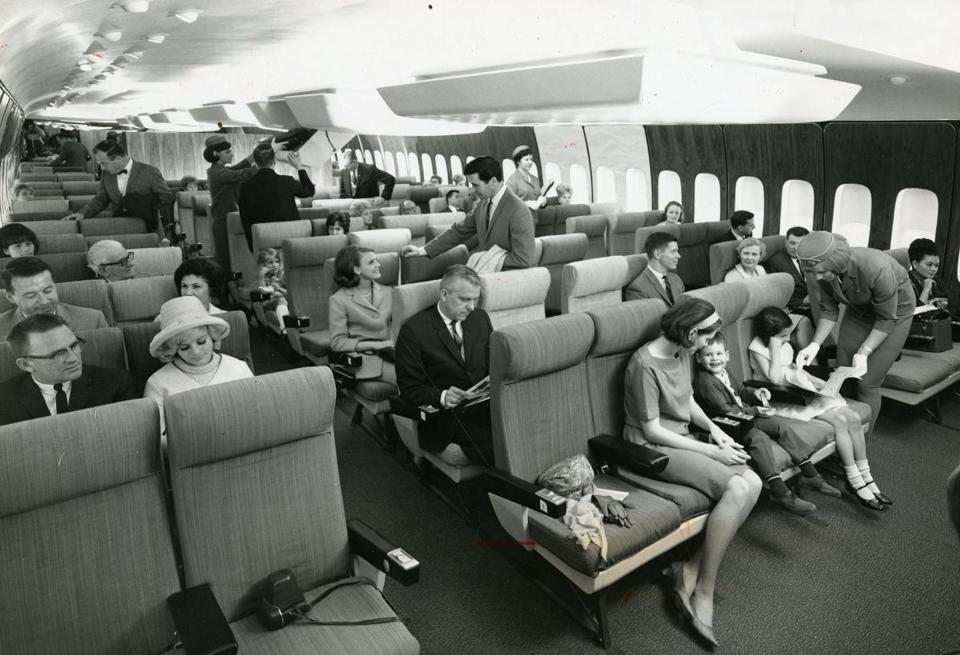 As long as enough consumers continue to value price over historical flight amenities, everyone wins…minus the airlines like Frontier and Spirit who won't likely appreciate more hands in the cookie jar. But frankly, that's not the consumer's problem. If airlines are still making money and consumers have more options while paying less, it's a win-win.
What about the Restrictions?
As you would imagine, when airlines drop the price they also drop the amenities – some of them anyways. The real question is whether or not the amenities that fall off between Basic Economy and Standard Economy are actually important to consumers. Here are the restrictions Delta and United have in place for their Basic Economy offering. American has yet to provide any information on the specifics of their Basic Economy restrictions.
Delta Basic Economy Restrictions
Automated seat assignment after check-in or at the gate

Passengers traveling together, including families, may not be seated together

Customers will not be eligible for same-day changes or ticket refunds after the

Risk Free Cancellation Period

, usually ~24 hours from time of booking

Passengers will board in the last zone and not be eligible for paid or complimentary upgrades or preferred seats, even with Medallion® Status

Customers will still have access to overhead bins
United Basic Economy Restrictions
Automated seat assignment after check-in or at the gate

Passengers traveling together, including families, may not be seated together

No voluntary ticket changes except as stated in the

United 24-hour Flexible Booking Policy

Passengers will board in the last boarding group unless a MileagePlus Premier member, primary cardmember of a qualifying MileagePlus credit card, or Star Alliance Gold member and will not be eligible for Economy Plus® or premium cabin upgrades

Full-size carry-on bags are not allowed unless you're a Premier member, a primary cardmember of a qualifying MileagePlus credit card, or a Star Alliance Gold member
There are only two distinctions between Delta and United – Delta requires all Basic Economy ticket holders to board last while United still takes membership program status benefits into account and Delta still provides Basic Economy ticket holders with access to overhead bins while United does not. In my opinion, the only restriction above that is truly worth consideration is United's carry-on policy. Otherwise, the restrictions certainly aren't "make or break" for many travelers looking to save a buck.
At the end of the day, consumers need to ask themselves whether it really matters if they board first or last. After flying hundreds of thousands of miles, I can say that boarding first only has two potential benefits: dibs on overhead compartment space and the ability to knock back a pre-flight cocktail (but only if you're in first/ business class). Frankly, I can't understand why there is such an urgency to hurry to a seat just to wait. When overhead storage space fills up, attendants gladly place carry-on elsewhere and the plane isn't leaving without anyone who is on time with a ticket in their hand. Consumers should pump the brakes a bit and be happy that they're not really missing anything of value as they save a few bucks on their flights.
Cheap Doesn't Have To Mean Cheap
Removing fairly inconsequential amenities to offer cheaper seats doesn't necessarily cheapen the experience. Southwest, the gold standard for low-cost airlines, has made travel fun again, while offering low-cost fares, by injecting personality and humor into the customer experience…as well as pretzel vs. peanut races.
These are things that cost virtually nothing to do, but make the customer experience exponentially better. Following suit, Delta as well as other airlines, have used the monotonous task of reviewing flight safety information with passengers as an opportunity to shake up things a bit by creating humorous videos to relay the information.
This will become even more important as Millennials hit their prime. A 2014 Boston Consulting Group analysis put their buying power at $1.3 Trillion, a number that is steadily rising as they age. Furthermore, a study by Harris Group found that 72 percent of millennials prefer to spend more money on experiences than on material things. This means the ability to turn the mundane into an experience in and of itself will become increasingly important in the coming years. Airbnb has managed to crack the code and is now valued at $30 Billion. Which airline will emerge as the victor in the low-cost space is only something time will tell.
Interested in learning more about why Millennials love Airbnb so much? Click here.
I believe the hospitality industry needs to make 2017 the year of the consumer experience. Look for more on what the future of personalization in hospitality might look like shortly. Between now and then, I would love to get your thoughts and/ or hear about any experiences you've had flying basic economy through the major airlines. Please reach out to me at John@StockiExchange.com or send me a message through my website here.